I had an interesting conversation with one of my former managers with Johnson & Johnson a couple of years ago that serves as a great analogy about the use of Social Media in today's business world. He was attending the 2011 Allstate Sugar Bowl between Arkansas and Ohio State. He is a huge Arkansas fan, and he was attending the game with some of his friends (all in their 40's) and a couple of their teenage/early college sons. They were going to meet some friends at the game, and when they arrived, they realized that they had 2 more tickets than they needed. They had a couple of hours before kickoff, so they needed to move these tickets. Marc, my former manager, immediately did what folks our age do when we have tickets to see at the game, depicted in the picture below 🙂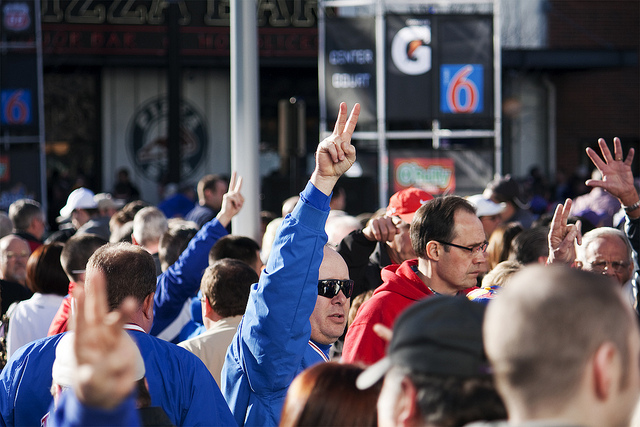 Yep, that's right…hold up the tickets or 2 fingers to let the crowds of people around you (most of which already have tickets) that you have 2 tickets available. At the same time, one of the "younger" crowd took to Twitter and Facebook to post to his "social media" group that he had tickets for the game, and if you wanted them, shoot him a message and he'd meet you at "x" location to make the deal. Within 5 minutes, he had the tickets sold to a friend and was heading to the pre-determined location to seal the deal.
It was an "ah-ha" moment to my boss, and as I thought through it, this is also a great moment of learning for small business owners today. Are you just using the old "two fingers in the air" approaches to reaching your market? That could include newspaper, business cards, and phone books. If so, think about your world today…when is the last time you used the phone book to find a phone number…it's probably been quite a while.
Today's world requires the use of many different sources of communication with your customers…many of which require technology, but also costs little to nothing except your time. I've linked to another blog which speaks to the combining of social media with traditional marketing tools. I hope it's helpful and you enjoy the read.