November 8, 2012 – Initial Visit
Well, the countdown is on. In less than one week, I will have my LASIK Surgery! This decision began over a year ago when I decided to pull out money in my HealthAccount to cover the cost of the surgery. As that money will expire at the end of 2012, I really waited til the last possible moment to make this happen!
I had my original appointment at Stokes Eye Center on November 8, where I underwent a full eye exam, including the always fun Dilation! Sandra, who is the LASIK consultation nurse there, is fantastic!! She did numerous measurements with several different machines to get different perspectives on the shape and size of my eyes. None of it was painful, just putting my face against a chin rest and looking at various different lights shining through the machine at me. After all the measurements were taken, which took about 90 minutes, they determined that I was still a good candidate for the surgery. We did discuss the issue of me being 41 years old. This surgery will do nothing for the ultimate (and quickly approaching) need for reading glasses, as that is a result of a weakening muscle in the eye, not a mis-shaped eyeball. At this point, I don't need reading glasses, so I am opting for ths surgery. At a minimum, this will free me up from the daily need for glasses/contacts while driving, watching sporting events, swimming, playing golf, or many other activities!
December 14, 2012 – Re-Measurement Visit
I went back to the office yesterday for a final series of measurements, because they need to be taken within 30 days of the actual Lasik Procedure. I basically went through the same process with 4 different machines, only this time I didn't have to have my eyes dilated (that was nice). We confirmed the appointment for Thursday, December 20 at 12:30 PM. The entire procedure shouldn't take more than 1.5 hours from check in to leaving the office. The actual time in the room, from what I was told and what I have read online, is 15 minutes or less. I was offered a Valium if I felt it would help me to calm my nerves. I don't think I'll need it, so I didn't accept the prescription. I've been told not to wear any strong scents on my body or any eye makeup (which shouldn't be an issue for me).
All that's left for me is to wait…and wait…and wait…and hope I don't come out of the office like this (no this isn't a real woman…a zombie dress up)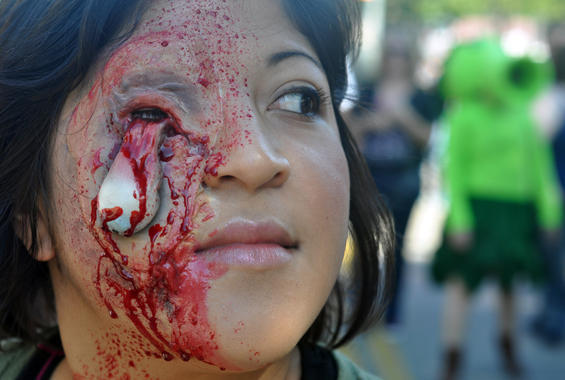 December 21, 2012 – Surgery Day!!!
Well, the day is finally here! I'm typing this at about 10:45, so I'm a little less than 2 hours from the big event. I'm super excited about what I'm sure the outcome will be, but I must admit the "unknown" of the procedure is bugging me a little bit. I've asked many of my friends who have had it done, or who know people who have had it done, and pretty much to the person, they all say it is effectively painless. Maybe a little bit of pressure, but no real pain. That is reassuring, but then I remember that I am volunteering to have my cornea sliced virtually off, folded back, and then having strong lasers burn the back of my eye…sounds amazing!!
One random question I have that I have yet to google…"Who in the world volunteered to have this procedure tested on them first??"
Anyway, one of my buddies, Daniel Dulaney, asked me last Sunday if I'd ever watched a youtube video on the LASIK procedure? Well, I went home and immediately looked it up. Big mistake! As the video started, my lovely wife asked me if I had watched one before…"Well, No" was my response. In her wise way, she says…"Then why watch it now…you're gonna get it done, why worry about what they're gonna do?" That was about the time I got to the part where they showed the 4 prong brace they use to stabilize your eye…that was enough for me!!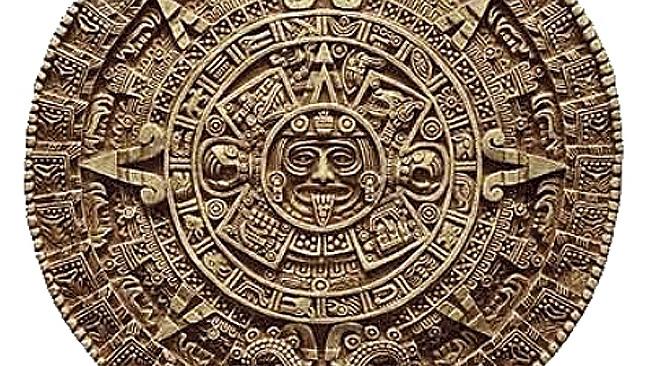 I have had brief moments of doubt and anxiety, but I'm calm now and ready to tackle it. In fact, I woke up at 4:30 this morning and couldn't go back to sleep, so I got up, finished my remaining work I needed to do until next year (starting a 2 week vacation today!!) and am now ready to get it done!!
Assuming all goes as planned (and I'm sure it will), I'll update this post on 12/21/12 with no glasses!!
That is unless the Mayan's are right!!
Arrival at the Office: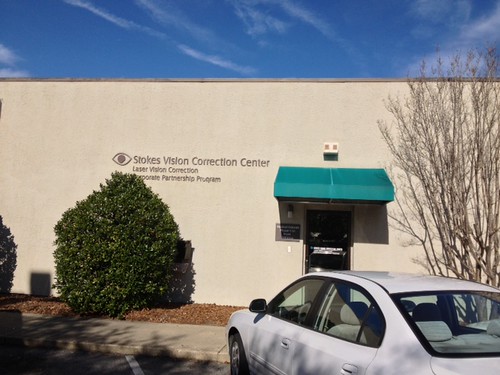 After stopping by CVS to pick up the antibiotic drops that had been prescribed by me the week before, I was on my way to the office. Trina and my whole family, including Grace Ann Dulaney, were with me when I arrived. They dropped me off and headed to lunch, since it was a half day at school (last day before Christmas Break). I got there right at 12:30, and started into the process:
Pay the Bill – this was to them obviously a very important part!  I had to call the bank to get approval for that amount to be put on the card, but it was uneventful enough.  After paying the bill, I was moved into the exam room.  Before that happened, I had a little extra time, so I took some final "glasses" pictures for hopefully "old time sake!"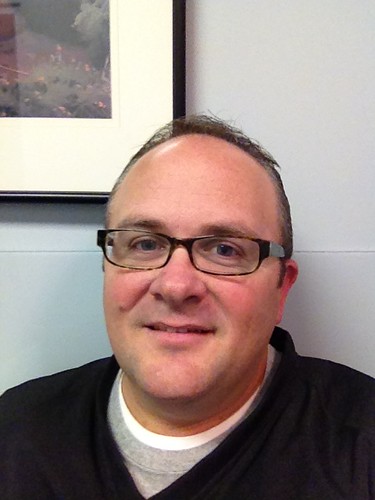 Final Exam – I was moved into the exam room, where I signed off on all the legal forms, put my footies on, and waited for the nurse to come in.  Then one of the nurses came in to do a final vision check.  I think my vision was a little different when my eyes were dilated vs. when they weren't on my last visit, so Dr. Ross wanted to ensure everything was correct.  Again, it was back to the "which one is better, one or two" routine, which kinda stressed me out.  If they are basing the laser, how they cut my eye, based off of these random responses to him flipping ben franklin goggles around, I had to make sure I really paid attention!  The result was a relatively stable reading, so we were moving on.  I asked if I could go to the restroom again (third time in 20 minutes – kinda nervous at this point) and she told me that if I wanted to go…go now!  I was able to keep my cool booties on…this was my last stop in glasses!  Next up was Dr. Ross
Explanation of the Surgery – Dr. Ross came in the room, had one final look-see at my eyes through the bright light, and explained the process and how it would happen.  I won't bore you with the details here, as I'll get into them later, but he was dead on with his explanation…its as if he had done this once or twice before!  After a little wait early on, things were really starting to happen now.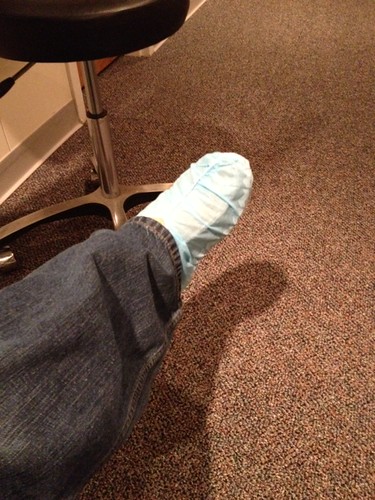 Into the LASIK Room – Immediately when Dr. Ross left the exam room from his explanation, a nurse came in to get me.  We walked into the LASIK room, as I was the first one for the day to have surgery completed.  It was a completely white room, three nurses and the doctor.  I got to put on a cool blue hair cover (like my hair would be in the way in the first place) and sat down on what looked like a dentist chair.  It was tilted back and a pillow was put below my head.  It was tilted a little further back than I had expected, but it wasn't uncomfortable by any stretch.  The nurse twisted the chair around under the laser to make sure I was aligned appropriately.  I didn't want my nose or lips lasered, you know!  While I was being adjusted, they turned on the laser so I would hear the clicking and what it sounded like…not too jarring, but it was helpful to know what to expect.  It was GAMETIME!  I wrapped my thumbs around my belt so my hands would have somewhere to rest, and said a final little prayer!
The Procedure!! – The nurse began covering my left eye with a plastic cap and putting numbing drops in my right eye.  First was a couple of drops, then she rubbed some on the lower and upper eyelids (that assured me that my eye was numb because I really didn't feel her rubbing it on my eye).  After that, she put Betadyne around my eye and taped my eyelashes down with some sort of tape stuff.  At that point, the chair was rotated to under the laser…it was really happening now.  Dr. Ross told me to look at the orange flashing light.  If you have seen pictures of an eclipse, that's kind of what I was looking at…a black circle surrounded by a bright white light around it.  There was an orange blinking light in the middle, and that is where I was supposed to focus my right eye.  Dr. Ross then placed what I would call a "centering ring" on my eye, which is when the pressure I heard about kicked in.  Once he had my eye how he wanted it, he said "suction"…and I knew what was next.  My vision in my right eye went black and I heard a buzzing sound.  That was the sound of the blade slicing my cornea so it could be peeled back.  I didn't feel a thing, but the whole "going dark" thing and being able to see my cornea flipped back was interesting and kinda cool.  The orange light was very fuzzy at this point, and while my mind was racing, I had to make sure I stayed focused on that blinking light!  I was distracted at this point because the rinse and stuff that was being flooded into my right eye was dropping into my still very alive left eye and was kind of irritarting it, which made me want to blink both eyes, which I couldn't do with my right eye!  It didn't appear that Dr. Ross noticed, but it was bothering me in my mind if nothing else!  I heard them validate the settings for the laser one last time, and then I heard it…19 seconds…that's how long the laser would be correcting my right eye!  Ready…set…burn!  When it started, I definately heard the clicking noise and could see some flashing light.  The smell was like described…burning flesh, hair…you know the smell.  It wasn't overwhelming, and I thought I saw smoke, but that may have been in my mind only.  5…4…3..2..1…done!.  Immediately after that, the cornea was flipped back down, and the rubbing began with the little brush to get the cornea to lay down.  Still looking at that flashing orange light, left eye still being irritated!  Before I knew it, the chair was slid back around and it was time to start on the left eye.  Tape removed from my right eye, and then the same process of numbing drops was started on my left eye.  It was a little irritated at this point, so I felt the numbing stuff a little more and the light was a little more troubling, but nothing major.  Now that I had been through it with one eye, I knew what was happening…the only difference is that the left eye was lasered for 15 seconds.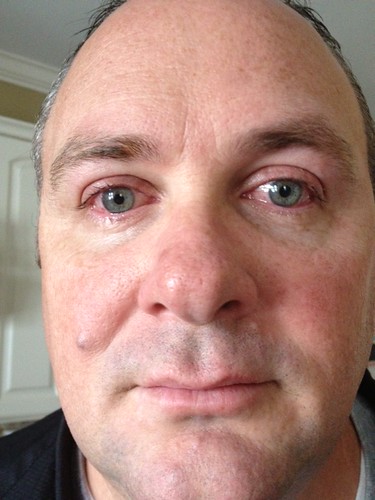 It's Done…Stand Up – They twisted the chair back around, cleaned my left eye off, and started lifting me up.  When it was upright, they said "OK"…and I was like "I just stand up now?"  For some reason, I thought there would be more recouping time or something.  I stood up, and voila!  I could see!  It was cloudy, like when you wear contacts overnight and just wake up, but my vision was clear.  I got my phone and water bottle and went back to the exam room.  Trina came in the room and the nurse went over the details with me, particularly around the importance of the steriod, antibiotic, and rewetting drops.  Dr. Ross came in one last time to look at my eyes, I guess making sure the flaps were sealing back good, and reminded me that the next 2-3 hours were critical, to keep my eyes closed and try to take a nap.  I got some cool googles and some shades and headed out with Trina.  If felt like a long time, but I snapped some pictures with my phone, and I entered the OR at 1:47, was back in the exam room post op at 2:07, and was leaving the office at 2:15!!  That's fast!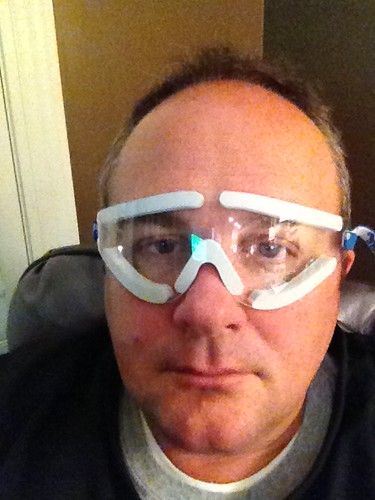 Post-Op Recovery – I went home, and we snapped some pictures when we got home.  As you can see, they were pretty irritated and it was kind of hard to open my eyes for long periods of time.  If you've ever had pink eye, that's kind of how my eyes felt.  Sensitive to light, excessive watering, and itchy.  I went into my bedroom, where it was dark, and tried to go to sleep.  I didn't take the percocet offered, only some tylenol we had here.  It took awhile for me to drop off to sleep, partly because I always have trouble sleeping in the daytime, and partly because my eyes were bothering me.  Every so often, they would twitch, pain would shoot through, and they would water profusely.  It was irritating, but not unbearable by any stretch.  I got in the room about 2:30, dropped off to sleep sometime later, and woke back up at about 5:30. At that point, I really felt like I had pink eye because I couldn't open my eyes because my eyelashes were stuck together.  This time it kind of did hurt when I opened them, like pins were poking them, but when I opened them, I could tell that they were really beginning to clear up.  We put more rewetting drops and the first dose of antibiotic and steroid drops in them…boy did that steroid drop burn!  I didn't go back to sleep, I got in the den and sat there with my shades on so I could be around the family.  After I woke up at 5:30 and opened my eyes, I think I had turned a corner, because my eyes didn't really hurt anymore for the rest of the night.  Do the math…2-3 hours were critical, just like Dr. Ross said!  One of the surprising things I did was read a sign on the other side of the room from my chair…I could've never done that before!  Oh…here is my cool goggles I get to wear for 3 nights!
Day #2 Update – 12/21/12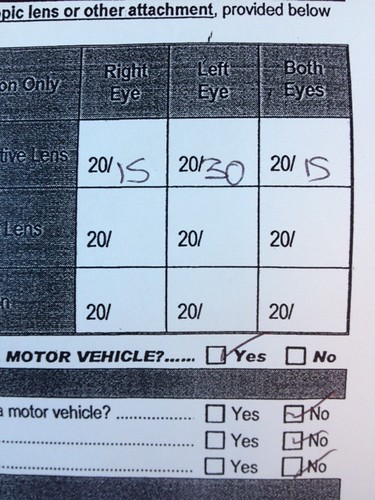 Well, first off, the world hasn't ended…yet. Guess the Mayans were wrong! I woke up this morning and MAN was I amazed! I had a post-op appointment at 7:45, and as I was getting dressed, I just had to keep coming to the realization that my vision was really this good without glasses or contact lenses! It was clear to me that my right eye was a little more recovered than my left eye, as my right eye was crystal clear and my left eye was still a little fuzzy. I tried to convince Trina that I was good to drive myself up to my follow up appointment, but she would have none of it. I guess she remembered me saying that I wasn't allowed to drive until after that appointment. This appointment was very quick. An eye check up…Right eye, seeing the bottom line, left eye, a couple lines higher. Dr. Ross came in and looked at my eyes through the little light thing again, then did the "which one is better" test with my left eye. He said it will continue to clear up as well, and see you in 2 weeks. Sandra, the main LASIK nurse, stuck here head in to see how I was doing…she is a real asset to that operation, so nice and friendly. I got a form to carry to the DMV so I could get the corrective lens restriction removed from my SCDL. I had to snap a picture of my vision! It is amazing the result, and in less than 24 hours! No more pain, no more glasses!! Yeah, that is 20/15 right eye, 20/30 left eye, 20/15 both eyes!!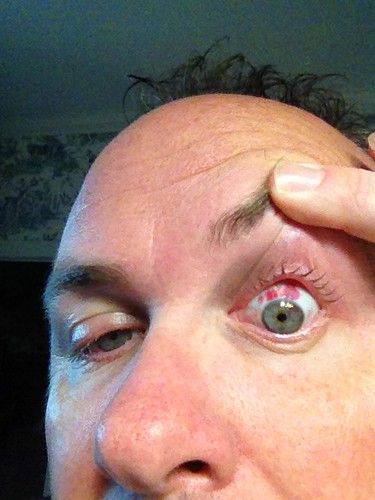 I spoke to my dad later in the day, and we were talking about how long I have had glasses…I was in the 10th grade when I got them. He recalled the time when he knew I wasn't seeing well for the first time. I was keeping the scoreboard for the Florence Legion team and he was in the pressbox with me. He asked me what the umpire said the count was, and I responded, "Come on, Dad, you know there's no way you can see his fingers from way up here!" Well, he was over 40 and could see his fingers perfectly!
Well, I'm seeing pretty great today!!
Today was a good day, putting drops in as required, ZERO pain, a little irritation in my left eye, but overall I'm greatly satisfied. I have included some another shot of some of the healing that will need to be done. This picture to the right is clearly where the eyes are bloodshot from the pressure applied with the centering ring. I don't feel it, but it sure looks nasty and is in both eyes the same way.
Day #3 – Update
Everything is still going great! Left eye has improved, not as out of focus as it was yesterday morning. I drove last night, and either I didn't experience the "halo's" that others have talked about, or I was seeing them with my glasses on, because it really looked the same as it did before the surgery. I couldn't be happier with this process. No pain yesterday, good vision, all is good! Thank goodness I went through with this procedure!